Get the Most Out of Your Investment in Education Plus
Access No-Cost Services through CDW's Workspace Services Offer
If you are a US or Canada based K12 district purchasing Google Workspace for Education Plus licenses between March 15th, 2023 and December 5th, 2023, you may be eligible to receive no-cost services for your domain.
The Workspace Services Offer* is a limited-time program that helps schools drive a more sustainable adoption of Google Workspace for Education Plus through training and support services** like:
A four-part webinar series that covers security, Teaching and Learning features, and analytics and reporting

A Google for Education Audit to evaluate your existing configurations and recommend ways to improve your domain

Support Stacks that connect technical staff with Google Consultants to solve challenges with storage, reporting, OU structure, Gmail, and more

A bundle of Amplified Admin certification courses surrounding the Google Admin console and cybersecurity

A Google Workspace Tune Up to reconfigure Education Plus domain settings for efficiency and effectiveness
*This is a limited-time offer, services must be scheduled by December 5th, 2023 and must be redeemed by June 30th, 2024.
**Redeemable service offerings depend on purchase eligibility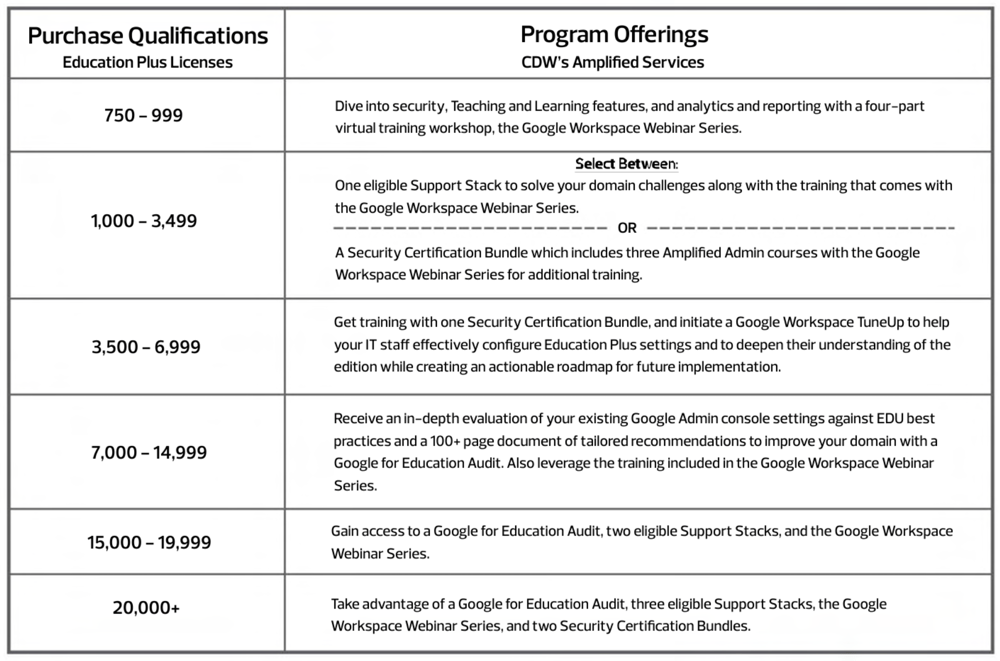 Enable your technical staff to meet the unique needs of your administrators, teachers, and students by letting CDW empower you to leverage the power of Google Workspace for Education Plus' advanced features and capabilities.
Ready to Get Started?
Connect with an account rep to discuss your school's eligibility for the Workspace Services Offer by completing the form.